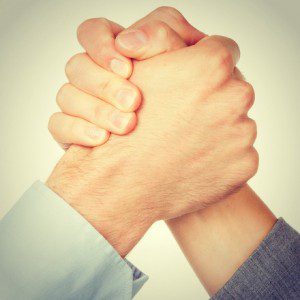 There are two types of telecom companies that utilize the Public Switched Telephone Network (PSTN), Incumbent Local Exchange Carriers (ILECs) and Competitive Local Exchange Carriers (CLECs). 
ILECs are also known as incumbents, tier one providers or the phone companies.  CLECS are the phone company's competitors; they're tier two providers or resellers.
AT&T, Verizon and CenturyLink are ILECs.  Windstream, TW Telecom, XO, Integra and Telepacific are examples of CLECs.
The ILECs own the local PSTN, from the local loops to the central offices, and all the wiring in between.  CLECs lease local loops (access to end users) and colocation space in the ILECs' wire centers.
ILECS can take on the role of CLECs outside their footprint.  CLECs are never ILECS.  ILECs service residential and business customers.  CLECs stick to servicing business customers primarily.
CLEC challenges:
They don't provide end-to-end solutions.  Because CLECs resell a portion of the incumbents' network, there's potential for finger pointing, should there be a service interruption.
Limited service areas: CLECs limit their service offerings to larger, more metropolitan cities.  Some limit their services to just a few states.
Limited service offerings: Most CLECs limit their service offerings to T1s and integrated T1s.  Some offer fiber and Ethernet but none of them offer the comprehensive list of services that ILECs provide.
CLEC strengths:
Lower pricing: CLEC pricing is almost always less expensive than the pricing offered by the incumbent carriers.  CLECs are more aggressive with their pricing and have more pricing flexibility than incumbents because they're not restricted by tariffs and aren't required to deliver services to undesirable locations or customers.
CLECs are more experienced with integrated T1: if you have a small business and can't receive DSL or Cable internet, integrated T1 is your next best low-price option.  CLECs are experts at delivering the service because it's how they got started.
CLECs are the ILECs' biggest customers: CLECs can get their issues resolved much faster than the typical ILEC customer.
CLECs tend to be more hands on during their installations.  CLECs conduct site surveys and will work hand in hand with a customer's phone and IT vendors to ensure an installation goes smoothly.
It's important that CLECs exist because they help keep the telecom industry competitive.  Still, some businesses consider it a risk to enter into a business agreement with a CLEC.
Here are some ways to reduce the risk of working with a CLEC:
Use a telecom consultant experienced with CLECs.
Test out a CLEC by moving a single circuit or location to them.
Limit use of a CLEC's service to providing redundancy for the primary services you purchase from an ILEC
Limit CLEC services for less critical portions of your voice and data network.
Ways to maximize the effectiveness of CLECs:
Include CLECs in RFQs: The inclusion of CLECs participating in your RFQ will force an incumbent to be more aggressive with their pricing and terms.
Use CLECs to diversify your telecom service portfolio, for bargaining power and as a safeguard against ILEC misconduct
Use CLECs as a way to gauge service levels.  Maybe, there's a whole other level of service that you're missing out on?
ILECs would prefer that companies remain ignorant and fearful of CLECs, but there are many good ones and they shouldn't be penalized for delivering services in a manner that was set forth by the FCC and Public Utility Commissions.
CLECs should be part of every company's telecommunication portfolio. Utilizing a telecom consultant can facilitate the use and ease the concerns of using these providers.