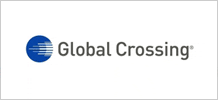 International voice and data service provider
Headquarters:
Hamilton, Bermuda
Service Area:
700 cities in 70 countries, world wide
History:
Founded in 1997.  Installed undersea fiber optic cable from U.S. to Japan, California to Latin America and U.S. to U.K. & German, 1997.  Filed for bankruptcy in 2002.  Emerged from restructuring in 2003.
Primary Competition:
AT&T, Verizon, CenturyLink & Orange
Strengths:
Able to service customers with international reach
Tier One Internet Provider
First and only global provider with IPv6 natively deployed in both private and public backbone networks
Restrictions:
Not competitive in small to midsize sector
Product Offerings:
Dedicated Internet Access
Ethernet Services
Converged Services
MPLS
Frame Relay
Private Line
ATM
Wavelength
IP VPN
VoIP
SIP
Toll Free