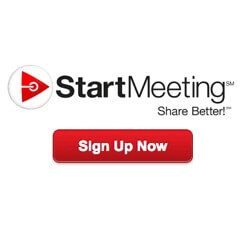 Telecom consulting agency, CarrierBid Communications, has been offered special pricing for SmartMeeting's Audio Conferencing and Computer Screen Sharing service.  
CarrierBid is able to offer its clients monthly pricing at a 35% savings off of SmartMeeting's already low rate.
SmartMeeting offers Screen Sharing, Integrated Audio, Audio Conferencing, Cloud Based Presentations, a Customizable Meeting Wall, Cloud Drop Box, Web Controls, Radio, Broadcaster and Meeting Blender.
More standard features than GoToMeeting offers, for less than half their price.  
StartMeeting's basic package allows for up to 50 attendees – twice the number of attendees that come with GoToMeeting's basic package.
StartMeeting's audio conferencing can be used as a stand-alone service and can support up to 1000 callers.
StartMeeting allows users to record their presentations, customize their landing page, upload and share documents, a web portal to manage conferences, the ability to stream conference calls to their wall, play audio files and rewind live screen sharing presentations.
Most of those features aren't available with GoToMeeting. 
SmartMeeting's monthly price is $19.95, but if you use CarrierBid's special promo code CBID9GPLG6 or simply click on the SmartMeeting logo on the right side of this page, you can receive the same great package for only $12.95 a month – and the first month is free.
With SmartMeeting you can conduct sales presentations right over the phone.  Organizations can conduct company meetings.  Collaborate, mind melt, brainstorm, present and close without leaving your office.
SmartMeeting is an affordable audio conferencing and computer screen sharing service.  CarrierBid has made it even more affordable.
CarrierBid is a full service telecommunications agency that can help businesses save time and money when they're shopping for phone and internet, voice and data services.  If you would like help procuring any business telecom service, please contact CarrierBid today or complete the web form on the right side of this page.