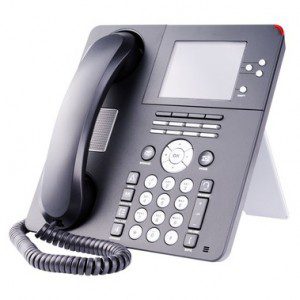 For a small business setting up new telecommunication services, their choices are to set up phone lines and internet and then purchase some standard phones or a small phone system.   
No matter what business you're in, there will always be competition.  Consumers have a choice and they're always considering their options.  In some ways they are looking for reasons not to do business with you.  One thing you want to make sure of is to always be professional.
It's important to have a professional looking website, business card, attire…  What about your phone equipment?  If you entered a business for the first time and the employees were using cell phones or the type of phones you can buy at Costco, would you look at that business differently?  Maybe.
Ever call a business and reach an old fashioned answering machine?  Even if you don't dismiss the business completely, you at least expect to pay the lowest possible price for their service.
If a small business wants to project professionalism, what are their options?
Buy a business phone system?  Even a small system could cost close to $9000.
Don't forget maintenance.  Most phone systems come with some sort of maintenance agreement.  Pay for one of those or pay for a technician to come to your business every time you have a problem.
Typically a phone system is obtained with a five-year, one-dollar buyout lease.  When you buy a phone system, you buy the phone sets and the actual system (the brains).  Technology is constantly changing; before the end of your lease, your system could become obsolete.
Why not avoid all that?  
Hosted Voice over IP (Hosted VoIP) includes phone service, internet access and phone equipment.  The reason it is referred to as "Hosted" is because the brains of the system, the most expensive component, resides on the carrier's premise.  The phone system's functionality is provided by the portion of the phone system that is hosted by the provider – all made possible by the internet.
A small business, with a tight budget, can receive all the functionality large businesses, that purchase phone systems costing tens of thousands of dollars, receive.
Auto Attendant can provide receptionist like functionality: answering incoming calls and providing a menu of options for callers, including dial by name.
Find Me, Follow Me can ring your desk phone and then your mobile phone, even your home phone, if you want, so you won't miss calls.
Voicemails can be converted to WAV files and sent directly to your email inbox. 
Say you're on a phone call but need to leave your office for an appointment.  Hosted VoIP allows you to seamlessly bridge a call to your cell phone, or vice versa.
Hosted VoIP comes standard with web portals that allow you to change hunting sequences, turn Call Forwarding on or off, and many other options.
Best of all, a Hosted VoIP system, including phone lines, phone equipment and internet, is close to the same price of basic business phone and internet service.
With a Hosted VoIP phone system a small business can cross phone equipment off their professionalism checklist.  Subscribe to a Hosted VoIP service and you'll always have the latest and greatest.
If you would like more information regarding Hosted VoIP or any other telecommunication service, contact CarrierBid today.