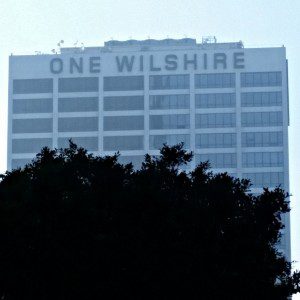 If you've been in downtown Los Angeles, you might have traveled right past one of the most famous telecommunications hubs in the world and not even noticed it. 
If you ever toured a data center or telecommunications hub, you know how serious security, redundancy and disaster recovery is to the clients it serves. Most data centers have armed guards and retina scanners; they have redundant power supplies and can even generate their own power; there are redundant cooling systems.
Data centers are typically located in locations where the earth doesn't move and hurricanes and tornadoes don't exist. They're sprawling buildings that are easy to construct to, located where land is inexpensive.
Then there is One Wilshire. 
One Wilshire is located right in the heart of downtown Los Angeles, in the center of earthquake country. It looks like almost any other downtown high rise but it is said to be one of the most interconnected places in the world.
One Wilshire was built in 1966. The telecommunications hub is located in floors four through thirty. The "meet me" rooms, located on the fourth floor, are considered to be some of the most expensive real estate in North America. A square foot of space in the room costs more than 100 times what a square foot of real estate would cost anywhere else in Los Angeles.
The building houses over 1800 conduits, thousands of miles of fiber optic cable and more bandwidth interconnectivity, including direct links to Asia, than almost any other hub in the U.S. It has five diesel-powered generators that can start up in seconds, and with the 11,000 gallons of fuel stored onsite, can run 24 hours before being refueled.
One Wilshire was sold by the Carlyle Group to Hines REIT for 287 million dollars in 2007. GRG West, a subsidiary of Carlyle, still operates the telecommunications hub that hundreds of telecom providers are connected to, including Verizon, CenturyLink, AT&T and Sprint.
If your company is considering switching telecom providers or needing to secure new business phone and internet services, don't shop alone. Contact CarrierBid today or complete the web form on the right side of this page. Let a CarrierBid professional be your customer advocate and guide you through the telecom jungle. We can help your company secure the best pricing and terms available. Best of all, CarrierBid telecom consulting doesn't charge a fee or request a split of your savings.