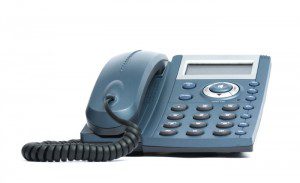 If your business is in the market for a new phone system, which system would you pick, a hosted phone system or a more traditional system?
Last week: detail on the two types of phone systems.
Pros of a traditional phone system: 
You buy and you own it.  Typically, a business phone system requires a 5-year lease with a one-dollar buy out.  Phone systems can last 20 years, no problem.  If you can continue to buy replacement parts, find people to service your system and it provides you with all the features you need, there's little reason to replace it.
You own every part of the system.  A PBX (Private Branch Exchange) is self contained and the exchange (brains) of the system remain at your business location and can be maintained and secured accordingly.
Call quality.  Call quality with POTS lines (business phone lines) or PRI (voice T1) and a PBX is excellent.
Dependability.  A PBX combined with POTS lines or PRI is extremely dependable.
Hands on assistance.  If you own a phone system your phone vendor will come out and maintain and repair your system.  You won't have to call a customer service center and work out problems over the phone.
Pros of Hosted Phone System: 
Cheaper upfront cost.  You rent or purchase the end-sets and pay a monthly fee for access to an exchange.  Even if you lease a traditional phone system, you're upfront costs will be more than they would be with a hosted phone system.
More features.  Hosted phone systems usually include a web portal that allows an administrator to change a hunting sequence, forward phone numbers, move extensions…  Users can send voicemails to their email inbox, create call forwarding sequences, even take their phone sets home with them, plug them into an internet source and receive calls like they were at work.
Won't become obsolete.  There are businesses using phone systems today that aren't compatible with Caller ID or don't support digital phone lines.  If your business takes off or experiences a down turn, with a hosted solution, you're not going to be stuck with an inadequate phone system or overkill.
More bang for your buck.  A small company can receive all the features a expensive PBX offers without doling out thousands of dollars that could be better spent on something that could help grow the business, like marketing or advertising.
Less to service.  With a hosted phone system, your provider maintains the exchange and end-sets are plug and play; you're not going to need to pay a phone vendor to service your system.
If your company is in the market for a new phone system or would like to receive more information on CarrierBid's telecom consulting services, please complete the form on the right side of this page.