CarrierBid is an authorized agent of LifeSize, the pioneer in high definition video communications.
Remote video communication has become the norm for businesses with multiple locations in the U.S. and around the globe.  High definition video conferencing has become the smarter, most timely and cost effective alternative to business travel.
CarrierBid will assist you through the LifeSize procurement process.  A CarrierBid professional will help you choose the best LifeSize solution for your organization, secure the lowest possible pricing and assist you with the setup and operation of your new system.
For more information regarding LifeSize High Definition Video Conferencing
LifeSize and CarrierBid offers:
Full HD video and audio, integrated data sharing and extensive I/O;    designed to meet the collaboration requirements of any organization.
The industry's first embedded HD MCU that allows you to connect with up to 8 locations at once.
Secure environments inside and beyond company walls – standards-based, end-to-end security methods to deliver the ultimate high quality, secure communication.
LifeSize® Phone™ – the best audio component available, with 16 always-on microphones that deliver 2X the room coverage and 10X lower distortion from outside noise.
LifeSize delivers the best performance at any bandwidth with Adaptive Motion Control for natural, uninterrupted communications.
The industry's best embedded HD bridge is included as a standard feature.
Custom installation services and room design to fit your specific needs.
Our LifeSize certified technicians will enable a turn-key solution and easy installation.
Reduce travel time and expenses: Eliminate travel expenses and all the time wasted: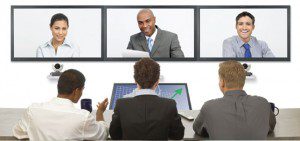 Traveling to and from the airport
Funneling through airport security
Sitting cramped on a plane
Eating unhealthy road meals
Sleeping in a strange bed.
LifeSize is like real life: High definition, 1080p, will give you the feeling of   being in the same room with coworkers and clients thousands of miles away.
No network upgrades required: LifeSize technology automatically measures the bandwidth available on your network and adjusts itself to produce the highest quality video possible.
As simple to install as a DVR:   In less time than it takes for a flight attendant to bring you pretzels, you can connect your LifeSize equipment and be up and running.
Why fight jet lag and struggle to function in a different time zone when you could sleep in your own bed, watch your own TV and let LifeSize bring coworkers and clients right to your office?